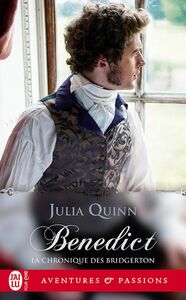 "Comme le rapporte la mystérieuse lady Whistledown dans sa chronique mondaine, on a vu, lors du fameux bal masqué des Bridgerton, le cadet de la famille, Benedict, en compagnie d'une ravissante inconnue vêtue d'une robe argentée. Mais à minuit, la belle s'est enfuie. Depuis, la haute société se perd en conjectures sur son identité. Benedict a beau la chercher dans tout Londres, elle semble s'être évaporée à jamais. Qui pourrait savoir que sous le masque de soie noire se cachait Sophie Beckett, la fille illégitime du comte de Penwood, haïe par sa marâtre qui la cantonne à l'office ? Quand Benedict croisera de nouveau Sophie, saura-t-il la reconnaître sous ses vilaines nippes de domestique ?
Book details
Publisher

Language

Original language

Publication date

Collection

Series
About the author
Julia Quinn
Diplômée de Harvard, Julie Pottinger opte pour le pseudonyme de « Julia Quinn » pour écrire ses romans. Sa spécialité est l'écriture de romances historiques, principalement celles se déroulant durant la Régence anglaise, s'inspirant ainsi de Jane Austen. Son style diffère de celui des romancières des années 70 et 80 qui selon elle, présentaient des héroïnes « paillassons » obéissant aux ordres de mâles dominants. Même si elle ne s'écarte pas des codes de la romance, Julia Quinn se considère comme féministe. Elle aime briser l'idée reçue selon laquelle les femmes intelligentes ne lisent pas (et n'écrivent pas) de romance. Elle a été récompensée à trois reprises par le prestigieux RITA Award. Ses livres ont été traduits en 37 langues à travers le monde et se sont classés à de nombreuses reprises sur la liste des best-sellers du New York Times. Elle a vendu plus de 10 millions d'exemplaires de ses romans rien qu'aux États-Unis. Son œuvre la plus populaire est La Chronique des Bridgerton, publiée aux Éditions J'ai lu et adaptée en série sur Netflix.
Reviews
No reviews have been written for this book.