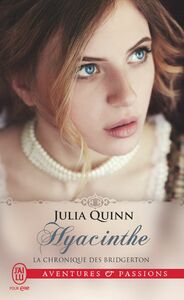 La chronique des Bridgerton (Tome 7) - Hyacinthe
Julia Quinn
La cadette des Bridgerton, l'une des meilleures familles du Londres des années 1820, est-elle destinée au célibat ? Trop fine mouche, trop directe, Hyacinthe n'a rien de l'héritière effacée qu'apprécient les hommes de la bonne société. Pourtant, ce n'est pas une raison pour finir vieille fille ! Certes, quand Gareth Saint-Clair, un aristocrate à la réputation douteuse, croise son chemin, on est loin du coup de foudre. Mais la traduction, à quatre mains, d'un journal intime écrit en italien va jouer un rôle qui n'était pas du tout prévu.
Book details
Publisher

Original text

Yes

Language

Original language

Publication date

Page count

Translator

Collection

Series
About the author
Julia Quinn
Diplômée de Harvard, Julie Pottinger opte pour le pseudonyme de « Julia Quinn » pour écrire ses romans. Sa spécialité est l'écriture de romances historiques, principalement celles se déroulant durant la Régence anglaise, s'inspirant ainsi de Jane Austen.
Son style diffère de celui des romancières des années 70 et 80 qui selon elle, présentaient des héroïnes « paillassons » obéissant aux ordres de mâles dominants. Même si elle ne s'écarte pas des codes de la romance, Julia Quinn se considère comme féministe. Elle aime briser l'idée reçue selon laquelle les femmes intelligentes ne lisent pas (et n'écrivent pas) de romance.

Elle a été récompensée à trois reprises par le prestigieux RITA Award. Ses livres ont été traduits en 37 langues à travers le monde et se sont classés à de nombreuses reprises sur la liste des best-sellers du New York Times.
Elle a vendu plus de 10 millions d'exemplaires de ses romans rien qu'aux États-Unis. Son œuvre la plus populaire est La Chronique des Bridgerton, publiée aux Éditions J'ai lu.
La saga met en scène la famille Bridgerton au sein de la haute société londonienne et dont les évènements sont orchestrés par une mystérieuse Lady Whistledown. La série est actuellement disponible sur Netflix et cumule des records de visionnage. En 2022, le prélude à La chronique des Bridgerton, La chronique des Rokesby, est publié chez J'ai lu.
Reviews
No reviews have been written for this book.