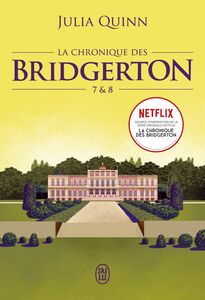 Décidément, la famille Bridgerton alimente encore les ragots mondains. La cadette, Hyacinthe, que son franc-parler a écarté des listes de filles à marier, se pique de la langue de Dante et se lance dans la traduction d'un journal intime italien, très osé, aidé par ce dangereux don juan de Gareth Saint-Clair ! Gageons que cette étonnante association aboutira à un chef d'oeuvre... Quant au dernier de la famille, Gregory, c'est un irrécupérable idéaliste qui croit toujours au grand amour. Il a jeté son dévolu sur la ravissante lady Hermione Watson. Mais cette dernière aime ailleurs... Qu'à cela ne tienne ! Gregory a tout son temps et le soutien inconditionnel de la spirituelle Lucinda Abernathy...
Book details
Publisher

Original text

Yes

Language

Original language

Publication date

Page count
About the author
Julia Quinn
Diplômée de Harvard, Julie Pottinger opte pour le pseudonyme de « Julia Quinn » pour écrire ses romans. Sa spécialité est l'écriture de romances historiques, principalement celles se déroulant durant la Régence anglaise, s'inspirant ainsi de Jane Austen. Son style diffère de celui des romancières des années 70 et 80 qui selon elle, présentaient des héroïnes « paillassons » obéissant aux ordres de mâles dominants. Même si elle ne s'écarte pas des codes de la romance, Julia Quinn se considère comme féministe. Elle aime briser l'idée reçue selon laquelle les femmes intelligentes ne lisent pas (et n'écrivent pas) de romance.

Elle a été récompensée à trois reprises par le prestigieux RITA Award. Ses livres ont été traduits en 37 langues à travers le monde et se sont classés à de nombreuses reprises sur la liste des best-sellers du New York Times. Elle a vendu plus de 10 millions d'exemplaires de ses romans rien qu'aux États-Unis. Son œuvre la plus populaire est La Chronique des Bridgerton, publiée aux Éditions J'ai lu.
Reviews
No reviews have been written for this book.