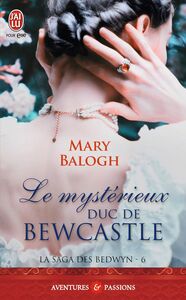 La saga des Bedwyn (Tome 6) - Le mystérieux duc de Bewcastle
Mary Balogh
L'arrogant duc de Bewcastle ne côtoie que la société la plus raffinée. Aussi prend-il pour une domestique maladroite la brunette mal fagotée qui vient de l'asperger de citronnade. En réalité, il s'agit de Christine Derrick, une jeune veuve aussi gaffeuse qu'impertinente. D'abord agacé, Wulfric est vite séduit par sa joie de vivre. Sans détours, il lui propose de devenir son protecteur. À sa grande stupeur, Christine refuse. En proie à des tourments qu'il n'imaginait pas, le duc en vient à demander sa main. Aucune femme sensée ne déclinerait une proposition si mirifique. Mais Christine n'est pas comme les autres : elle veut un mari qui ait un cœur...
Book details
Publisher

Language

Original language

Publication date

Page count

Translator

Collection

Series
About the author
Mary Balogh
Mary Balogh est un écrivain britannico-canadien de romances historiques. Considérée comme une référence du sous-genre « Régence », elle apparaît plus d'une trentaine de fois sur la liste des best-sellers du New York Times. Auteure de plus de soixante romans, Mary Balogh a reçu de nombreuses récompenses dont le Romantic Times Career Achievement Award. Spécialiste des romances historiques Régence anglaise elle a publié de nombreuses séries parmi les plus célèbres, La saga des Bedwyn ou La famille Huxtable. Ses publications sont principalement publiées dans la collection Regency chez J'ai lu.
Reviews
No reviews have been written for this book.