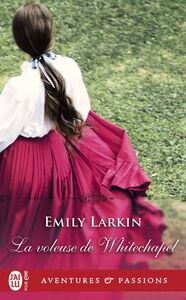 Pour l'orgueilleux Adam St. Just, la respectabilité et la famille passent avant tout. Il voit donc d'un très mauvais œil sa sœur Grace côtoyer Arabella Knightley, une jeune personne qui, non contente d'influencer Grace avec ses idées rebelles, prend aussi un malin plaisir à le défier à la moindre occasion. Comment se débarrasser de cette effrontée ? La chance lui sourit le jour où il perce l'extraordinaire secret d'Arabella. À présent, il détient une arme contre elle. Mais que vaut cette arme face au désir qui l'embrase chaque fois qu'il la voit ?
Book details
Publisher

Language

Original language

Publication date

Page count

Translator

Collection
About the author
Emily Larkin
Grâce à une mère bibliothécaire et un père écrivain, Emily Larkin a la chance d'avoir grandi entourée de livres. Dès l'école primaire, elle commence à écrire ses propres histoires. Puis, avec l'âge, ses centres d'intérêt évoluent et elle se détourne complètement de l'écriture, la littérature devenant même le sujet d'étude qu'elle tient en horreur.
Emily Larkin n'a alors aucun projet d'écriture et encore moins l'intention de devenir auteure elle-même. Elle obtient un diplôme scientifique et travaille de nombreuses années à l'étranger. Elle multiplie les emplois, tour à tour dans le domaine de la viticulture, comme facteur, serveuse en Écosse, ou assistante d'expédition en Antarctique ! Puis soudain, un jour qu'elle voyage à bord d'un bus en Syrie en plein milieu du désert, elle se pose la question suivante : « Et si…»
De nombreuses années ont passé depuis cette première interrogation, qui s'est depuis transformée en un manuscrit, puis un autre, faisant d'Emily Larkin l'auteure de romance historique dont on connaît aujourd'hui les romans.

Reviews
No reviews have been written for this book.