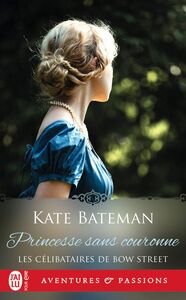 Les célibataires de Bow Street (Tome 3) - Princesse sans couronne
K.C. Bateman
Sebastian, comte de Mowbray, savoure son joyeux célibat. Il préfère la fréquentation des courtisanes complaisantes à celle des débutantes dévorées d'ambition. Le soir où il rencontre une certaine Anya dans une maison de plaisirs, subjugué par sa beauté, il lui réclame une nuit. Mais elle l'envoie promener et disparaît ! Sebastian a à peine le temps de digérer son dépit qu'il la retrouve quelque temps plus tard chez sa grand-tante, dont Anya est la dame de compagnie. Qui est donc cette mystérieuse jeune femme ? Une aventurière ? Une ingénue ? Une seule chose est sûre : elle le rend fou de désir.
Book details
Publisher

Language

Original language

Publication date

Page count

Collection

Series
About the author
K.C. Bateman
K.C. Bateman écrit sa première romance historique dans le cadre d'un pari pour un dollar avec son mari, qui prétend qu'elle n'arriverait jamais au bout de l'exercice. Elle lui prouve avec la plus grande joie qu'il avait tort, en écrivant son premier roman situé en pleine Renaissance italienne. Elle écrit aujourd'hui de nombreux romans dont les héroïnes sont des figures d'intelligence et de mutinerie, tandis que les héros sont de ceux qu'on a envie d'étrangler et d'embrasser à la fois. Kate mène une double vie : tantôt experte en beaux-arts, elle intervient également dans des émissions de télévision en Angleterre pour y partager son expertise des objets antiques. Elle trouve le temps d'écrire malgré l'énergie inépuisable de ses trois enfants et de son mari, lequel a refusé de lire le moindre de ses romans tant qu'il ne sera pas dans la liste de best-sellers du New York Times. C'est donc tout naturellement qu'elle s'efforce d'amener son cynique de mari à s'exécuter. D'ailleurs, il lui doit toujours un dollar.
Reviews
No reviews have been written for this book.