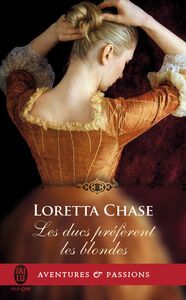 Lassée des prétendants qui ne voient en elle qu'un ravissant visage, lady Clara Fairfax évite la haute société pour se consacrer à ses bonnes œuvres. Afin d'aider une jeune fille en difficulté, elle contacte Oliver Radford, un avocat aussi brillant que misogyne, et le charge d'une enquête qu'elle entend mener à son côté. Le dédain narquois de Radford disparaît peu à peu lorsque leurs pérégrinations dans les bas-fonds de Londres lui révèlent la vraie Clara, une femme cartésienne, intrépide, qui n'hésite pas à lui tenir tête et ne tarde pas à le rendre fou d'amour. Bien sûr, leur différence de classe lui interdit d'espérer l'épouser un jour. Sauf que rien n'est impossible au meilleur juriste de Londres.
Book details
Publisher

Language

Original language

Publication date

Page count

Translator

Collection
About the author
Loretta Chase
Loretta Chase est la reine incontestée de la romance de type Régence dans les pays anglophones notamment avec le fameux Lord of Scoundrels, véritable phénomène éditorial, que les Éditions J'ai lu ont publié sous le titre Le prince des débauchés. Surnommée la Jane Austen des temps modernes, Loretta Chase, passionnée d'Histoire, situe ses récits au début du XIXe siècle. Elle a renouvelé la romance avec des héroïnes déterminées et des héros forts, à la psychologie fouillée. Style alerte, plein d'humour, elle sait analyser avec finesse les profondeurs de l'âme et de la passion. Elle a remporté deux RITA Awards.
Reviews
No reviews have been written for this book.