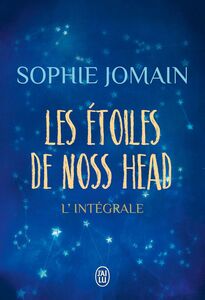 Hannah passe chaque été à Wick, petite ville écossaise banale à souhait : pour son dix-huitième anniversaire, elle est résignée à subir une fois de plus des vacances d'un ennui mortel… jusqu'à ce qu'elle croise Leith. Mystérieux et beau comme un dieu, ce dernier a une réputation désastreuse. Mais Hannah s'en moque, l'attirance est immédiate, réciproque et irrépressible. Quand sa vie bascule, la jeune femme découvre alors que ni les contes de fées ni les plus belles idylles ne peuvent rivaliser avec l'inimaginable et le surnaturel… Leur amour aura-t-il raison de la légende ? Avec cette intégrale, (re)plongez-vous dans les cinq tomes de la première saga young adult française ! 

Book details
Publisher

Original text

Yes

Language

Original language

Publication date

Page count
About the author
Sophie Jomain
Après avoir exercé le métier d'archéologue pendant quelques années, Sophie Jomain s'est découvert une passion pour l'écriture. Depuis le succès des étoiles de Noss Head, la première saga new adult française, elle n'a cessé d'être saluée par la critique, notamment pour sa série fantastique Felicity Atcock, ses romances contemporaines Cherche jeune femme avisée et D'un commun accord, inspirées de contes de fées, ainsi que son roman Quand la nuit devient jour.
Reviews
No reviews have been written for this book.