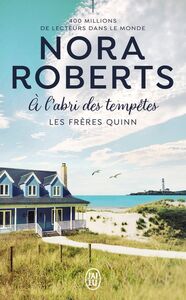 Les frères Quinn (Tome 3) - À l'abri des tempêtes
Nora Roberts
Le patriarche de la famille Quinn vient de mourir, laissant à ses fils le soin d'élever le petit Seth, adopté tout comme eux. Pour les aînés, restés à St. Christopher, la tâche est aisée. Elle s'avère en revanche plus compliquée pour Phillip Quinn. Publiciste à Baltimore, il jongle entre son travail et cet enfant aux origines bien mystérieuses. Un emploi du temps qui ne laisse guère de place aux conquêtes féminines. Mais Phillip ira-t-il jusqu'à en oublier Sybill, la séduisante sociologue qui semble beaucoup s'intéresser à leur famille ?
Book details
Publisher

Language

Original language

Publication date

Page count

Translator

Collection

Series
About the author
Nora Roberts
Nora Roberts (née Eleanor Marie Robertson le 10 octobre 1950 à Silver Spring, Maryland, États-Unis) est une romancière américaine spécialisée dans les romans d'amour et les thrillers psychologiques.
Elle a travaillé quelque temps comme secrétaire juridique puis s'est occupée de ses deux fils. Bloquée par une tempête de neige en février 1979, elle commence à écrire pour passer le temps et, deux ans plus tard, publie son premier roman, L'Invitée irlandaise. En 1985, elle se remarie, ouvre une librairie et sillonne le monde avec son nouvel époux.
Après le refus de son premier manuscrit par plusieurs éditeurs, Nora Roberts est devenue la figure incontestée de la littérature féminine, un genre qu'elle a contribué à renouveler en profondeur. En une vingtaine d'années, elle s'est imposée comme un véritable phénomène éditorial dans le monde, avec plus de cent cinquante livres publiés et deux cent cinquante millions d'exemplaires vendus. Plusieurs de ses romans ont reçu des prix prestigieux.
La saga la plus complète de son oeuvre suit les aventures du Lieutenant Eve Dallas, qui traque les criminels les plus sombres de New York.
Reviews
No reviews have been written for this book.