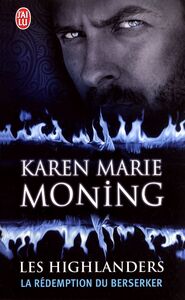 La très belle Jillian Saint-Clair se destine au cloître. Elle n'aime qu'un seul homme, Grimm Roderick, qui l'a toujours ignorée. Impatient de marier sa fille, Gibraltar Saint-Clair décide d'inviter au château trois soupirants : le noble Quinn, le cynique Ramsay et… Grimm. Mortifiée que ce dernier l'ait de nouveau rejetée, Jillian décide de le rendre fou de jalousie. Elle ignore que Grimm est un Berserker, un guerrier légendaire d'une force surhumaine… mais pas tout à fait humain.
Book details
Publisher

Language

Original language

Publication date

Page count

Translator

Collection

Series
About the author
Karen Marie Moning
« La seule autre ambition que j'aie jamais ressentie était un désir irrépressible d'être Capitaine d'un vaisseau spatial. Je suis née dans le mauvais siècle et c'était impossible, j'ai donc choisi d'explorer l'univers en écrivant. Les livres sont des portes ouvertes sur une infinité d'aventures. » Âgée de 17 ans, elle fréquente l'université de Purdue où elle obtient sa licence en droit, en plus de cours de philosophie, d'écriture créative et de théâtre. En parallèle de ses études, elle travaille comme barmaid et consultant en sciences informatiques. Elle prévoit de poursuivre ses études en droit, mais après un stage dans une firme d'avocats en droit criminel, elle change d'avis. Les 10 années suivantes, elle travaille dans les assurances où elle gère des litiges entre sociétés. À 30 ans, elle décide qu'il est temps de devenir sérieuse et de faire ce qu'elle a toujours voulu faire : écrire des romans. Fascinée par la mythologie celtique, elle publie la série Les Highlanders en 1999. Elle est alors nominée pour deux RITA Awards. Elle publie la suite de sa série et reçoit un RITA Award en 2001. En 2004, elle commence à écrire la série Les Chroniques de Mackayla Lane, une série d'urban fantasy au succès phénoménal dont les ouvrages ont été repérés par des studios Hollywoodiens pour une adaptation au cinéma. L'auteure a exprimé son souhait de voir cette saga adaptée en série télévisée. Ses romans ont été publiés dans plus de trente pays à travers le monde.
Reviews
No reviews have been written for this book.