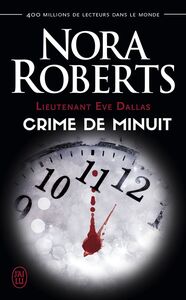 Lieutenant Eve Dallas (Tome 7.5) - Crime de minuit
Nora Roberts
Alors que, pour la première fois, Eve a la possibilité de passer les fêtes de fin d'année en compagnie de son mari Connors, elle est soudainement appelée pour élucider le meurtre d'un juge. L'assassin ? David Palmer, tueur en série et scientifique, qui testait sur ses victimes les limites psychologiques d'un être humain lorsqu'il est soumis à une souffrance extrême. Arrêté trois ans plus tôt par le lieutenant après un long chassé-croisé, il s'est évadé et espère à présent se venger de ceux qui l'ont jadis fait condamner. Il compte déjà trois victimes à son actif et il est prêt à tout pour capturer sa dernière cible, et ainsi achever sa vendetta : Eve Dallas.
Book details
Publisher

Original text

Yes

Language

Original language

Publication date

Page count

Translator

Collection
About the author
Nora Roberts
Nora Roberts (née Eleanor Marie Robertson le 10 octobre 1950 à Silver Spring, Maryland, États-Unis) est une romancière américaine spécialisée dans les romans d'amour et les thrillers psychologiques.
Elle a travaillé quelque temps comme secrétaire juridique puis s'est occupée de ses deux fils. Bloquée par une tempête de neige en février 1979, elle commence à écrire pour passer le temps et, deux ans plus tard, publie son premier roman, L'Invitée irlandaise. En 1985, elle se remarie, ouvre une librairie et sillonne le monde avec son nouvel époux.
Après le refus de son premier manuscrit par plusieurs éditeurs, Nora Roberts est devenue la figure incontestée de la littérature féminine, un genre qu'elle a contribué à renouveler en profondeur. En une vingtaine d'années, elle s'est imposée comme un véritable phénomène éditorial dans le monde, avec plus de cent cinquante livres publiés et deux cent cinquante millions d'exemplaires vendus. Plusieurs de ses romans ont reçu des prix prestigieux.
La saga la plus complète de son oeuvre suit les aventures du Lieutenant Eve Dallas, qui traque les criminels les plus sombres de New York.
Reviews
No reviews have been written for this book.