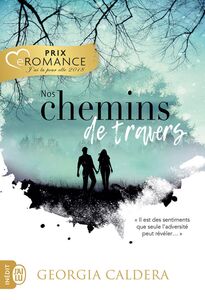 «Je m'étais juré que, s'il ne devait y en avoir qu'une parmi toutes les autres, ce serait elle. Et cependant, ce jour-là...» Depuis des années, Louis et Emma se côtoient sans vraiment se connaître. Au lycée, au centre équestre, et même à la fac, il est ce garçon populaire, star des concours et de sa promo, pour qui toutes les filles craquent en dépit de son arrogance. Timide et réservée, Emma, elle, n'a qu'un objectif : passer inaperçue. Leurs rapports se résument donc à une ignorance cordiale jusqu'au jour où Louis décide d'humilier publiquement la jeune femme. Mais un tragique accident va remettre les compteurs à zéro. Après avoir mordu la poussière, Louis se heurte à une solitude cruelle et inattendue, qui lui montre la réalité sous un tout autre jour. Emma sera-t-elle prête, elle aussi, à reconsidérer son jugement pour l'aider à se relever ?
Book details
Publisher

Language

Original language

Publication date

Page count
About the author
Georgia Caldera
Originaire de Touraine, Georgia Caldera est écrivain et illustratrice. Elle est l'auteur de la série Les Larmes rouges, récompensée du prix Merlin 2012, ainsi que de Dentelle et nécromancie, De velours et d'acier, Nos chemins de travers, Hors de portée, Hors de question et Hors de contrôle. Georgia tient également un blog beauté/mode, lafilleauxcheveuxbleus.com.
Reviews
No reviews have been written for this book.