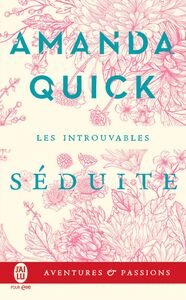 Lorsque Harriet a exigé que le vicomte St. Justin vienne régler une affaire pressante à Upper Biddleton, elle ne pensait pas voir débarquer un géant balafré qui terrifie tous ceux qui le croisent. Surnommé «la Bête», il serait, paraît-il, un monstre lubrique soupçonné même d'assassinat! Par chance, Harriet n'est pas impressionnable, et elle souhaite que Gideon l'aide à arrêter une bande de malfrats qui l'empêchent de se livrer à son activité préférée : la recherche de précieux fossiles. Mais quand tous deux se retrouvent prisonniers dans une grotte, elle réalise son imprudence. Car le charme déroutant de cet homme éveille en elle d'indicibles pulsions...
Book details
Publisher

Language

Original language

Publication date

Page count

Translator

Collection
About the author
Amanda Quick
Auteure de best-sellers, Amanda Quick s'est spécialisée dans l'écriture de romances historiques et contemporaines. Amanda Quick est l'un des noms de plume de Jayne Ann Krentz, auteure de romance contemporaine à suspense. Elle utilise également le nom Jayne Castle (son nom de jeune fille) pour écrire de la romance paranormale.
« On me demande souvent pourquoi j'utilise tant de noms d'emprunt, et la réponse est que c'est une façon pour mes lecteurs de toujours savoir dans quel univers mon livre les emmènera. » En plus d'écrire des ouvrages de fiction, elle est elle-même éditrice et auteure d'une collection d'essais nommé « Hommes dangereux et femmes aventureuses : les auteurs de romance à propos des attraits du genre » (publié par les Presses universitaires de Pennsylvanie). Chaque année elle participe à l'événement Romance Writers of America et y anime un atelier auprès des bibliothécaires afin de défendre l'importance de la romance.
« La romance est le seul genre qui garantisse qu'une héroïne soit au cœur de l'intrigue. Ce sont des livres qui célèbrent le courage et la vertu des femmes : honneur, bravoure, détermination et une croyance profonde dans les pouvoirs de rédemption de l'amour. »

Reviews
No reviews have been written for this book.