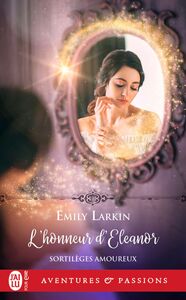 Sortilèges amoureux (Tome 3) - L'honneur d'Eléanor
Emily Larkin
Eleanor Wrotham est folle d'angoisse. Sophia, sa jeune soeur, s'est enfuie à Londres et a disparu après lui avoir adressé un appel au secours. Dans cette ville pleine de dangers pour une femme seule, Eleanor ne trouve qu'un allié : le sulfureux Mordecai Black. Ce libertin décrié par toute la haute société accepte de l'aider… et s'entête à vouloir l'épouser. Eleanor refuse. Elle s'est juré de ne jamais tomber sous la coupe d'un homme, et Mordecai est loin d'être un prétendant idéal. Mais qu'il est difficile de résister au charme de ce colosse ! Pourquoi ne pas devenir sa maîtresse, puisque tous deux sont déjà des parias ?
Book details
Publisher

Language

Original language

Publication date

Page count

Translator

Collection

Series
About the author
Emily Larkin
Grâce à une mère bibliothécaire et un père écrivain, Emily Larkin a la chance d'avoir grandi entourée de livres. Dès l'école primaire, elle commence à écrire ses propres histoires. Puis, avec l'âge, ses centres d'intérêt évoluent et elle se détourne complètement de l'écriture, la littérature devenant même le sujet d'étude qu'elle tient en horreur.
Emily Larkin n'a alors aucun projet d'écriture et encore moins l'intention de devenir auteure elle-même. Elle obtient un diplôme scientifique et travaille de nombreuses années à l'étranger. Elle multiplie les emplois, tour à tour dans le domaine de la viticulture, comme facteur, serveuse en Écosse, ou assistante d'expédition en Antarctique ! Puis soudain, un jour qu'elle voyage à bord d'un bus en Syrie en plein milieu du désert, elle se pose la question suivante : « Et si…»
De nombreuses années ont passé depuis cette première interrogation, qui s'est depuis transformée en un manuscrit, puis un autre, faisant d'Emily Larkin l'auteure de romance historique dont on connaît aujourd'hui les romans.

Reviews
No reviews have been written for this book.